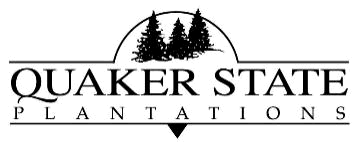 SUPERIOR QUALITY
CUT CHRISTMAS TREES
Quaker State Plantations is a major, award-winning grower of Douglas and Fraser fir Christmas trees. With over 450 acres of fields and an inventory of more than one-half million trees, we are located in Bloomsburg, PA in the heart of Pennsylvania Christmas tree-growing country.
Each tree to be harvested is graded by size and quality in the field by knowledgeable, full-time employees, using color-coded ribbon. Our grading and sizing are consistent from field to field and year to year. We are proud of our trees and your inspection is always welcomed.
EMPHASIS ON
CUSTOMER RELATIONS
Quaker State Plantations prides itself on its customer relations. We have consistently demonstrated unsurpassed proficiency in filling customers' orders as placed and getting trees to them on time. We maintain close communication with our customers throughout the whole process, from initial Plantation visit, through ordering and delivery, to post-season follow-up.
INDUSTRY LEADER IN
PRODUCTION TECHNIQUES
Quaker State Plantations is at the forefront of the industry in production techniques. The plantation is managed by Mark Zelazny, who has a Masters degree in forestry as well as 20 years of practical experience.
We are extremely particular about our planting stock and use reliable seed sources primarily from seed orchards or superior single tree selections. Our environmentally-conscientious integrated pest management (IPM) program is combined with the vigilance of our professional forester for optimal control of insects and disease. We fertilize our trees twice yearly to promote exceptional color and density. Our meticulous weed control in the tree rows and our grass cover crop between the rows not only looks great but helps to produce outstanding quality trees.
We are particularly proud of the fact that all of our trees are butt-pruned in the field early in the rotation so that after they are harvested they are "stand-ready". You have no heavy, upturned bottom branches to remove from the trees on the retail lot, which is a costly, time-consuming task that can frequently destroy the shape of the tree. Our customers have greatly appreciated this value-added service that we perform.
METICULOUS SHEARING
Our shearing methods are a combination of hand and mechanical means with special attention paid to the tops, producing uniform, moderately dense, conical trees. However, we do not shear our trees as tightly as many other growers do. We believe that you should be able to hang an ornament on a Christmas tree!
COMMITTED TO
THE FUTURE
We have an eye towards the future. The seed orchard that we have established from proven superior selections will consistently provide us with high-quality trees that only attention to genetics can attain.
The Christmas tree marketplace has changed and continues to change as the years roll by. Quaker State Plantations has over 30 years of adaptive history behind it to confirm that we are firmly committed to the long-term and will continue to do everything we can to remain an industry leader and promoter. Suggestions from our customers are always welcomed.
WE INVITE YOUR
INSPECTION
We are proud of our plantation and invite your inspection. Please call Mark Zelazny, our managing forester, at (570) 784-7522 if you wish to visit. He will be pleased to arrange a mutually convenient time. We also have customers of many years standing who would be glad to provide you with information about Quaker State Plantations. Once you have seen the operation and met the people involved, we are sure you too will become a loyal QSP customer.
Price List | Terms & Conditions | Order Form | About Us | Home